CKc Visits Penn State Children's
On June 4, CKc chairman Michael Wiggins and board members Bruce Parker and John McCarroll traveled to Hershey, PA, to visit and tour the Penn State cancer Institute at Hershey Medical Center and Penn State Children's Hospital and discuss opportunities for funded research.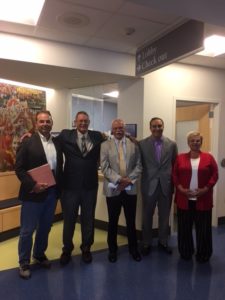 Our CKc board members were hosted by Vicki Deitzler, Corporate and Foundation Relations Director, and Dr. Jeff Peters, Deputy Director of the Penn State cancer Institute, who treated our team to tours of research labs, medical school facilities, the pediatric cancer clinic and the Hematology/Oncology floor at the Children's Hospital.
The trip highlight was meeting with Dr. Barbara Miller, Division Chief of Pediatric Oncology and well known pediatric cancer researcher; Dr. Valerie Brown, Clinical Director of Penn State's outstanding experimental therapeutics program for kids with cancer; Dr Lisa MacGregor, Chief of Clinical Affairs; and Dr. Jeffrey Neighbors, Penn State Department of Pharmacology's Experimental therapies researcher.
Our board had a productive meeting with these researchers and expressed interest In three primary areas: a sarcoma-based clinical trial; a trial that could focus on teenagers or late-diagnosed children; and our continuing interest in finding and funding young investigators and innovative research.
Penn State Children's Hospital and its Division of Hematology/Oncology is primarily funded by the Four Diamonds Foundation which in turn is almost entirely funded by Penn State's famous THON marathon dance-a-thons dedicated to kids with cancer, their families and funding research.
Penn State provides care to approximately 500 pediatric cancer patients per year—100 that are newly diagnosed and 400 in continuing care, clinical trials or in periodic clinic.
The Penn State Children's Hospital is recognized as one of the top 50 hospitals in the nation for pediatric cancer care by USNews and World Report's 2017-18 rankings. We look forward to growing this relationship and pursuing research opportunities with their talented team.