Happy 7th Birthday Cannon AKA Cannonball
It is 4 am, and I find myself wide awake, that is not unusual because I was taught as a young kid the early bird catches the worm – before my kids are awake I have usually done an hour or two of work and worked out – some call that sanity – I call it survival.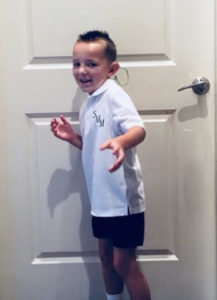 On this day seven years ago I gave birth for the first time, I became a Mumma-Bear. We named him Cannon James Roland Wiggins. I was 27 years old. I remember jumping up and down when I took the pregnancy test confirming. Despite being the girl then women who had said I would never have kids because my career was always going to be first – by that time I so badly wanted a baby. Michael and I met when I was twenty years old, I felt secure in our marriage, and it was time.
Birth for me was traumatic, utterly awful – let us say I was the Scottish lassy that walked in with the birth plan and I left with a c-section and adorable 8 pounds 8 ounces of PURE sunshine. He is still my sunshine – he wakes up with a smile, goes all day, and goes to bed smiling – indeed the happiest boy I have ever met.
On this day at 5 am my boy was born – little did I know then how much that my baby would change my life, my husband's life, and thousands of people's life.
Thank you to my friend Dr. Carducci who stayed late to deliver our boy – she had worked all night and I, of course, being the hard-headed Scot that is, thought I had done enough homework to deliver naturally. Oh, sweet little Mumma – if only I could go back in time and whisper in her ear – it doesn't matter, who cares, you will be just as connected to that kid if you have a c-section – a perfect example of why people say we get wiser with age. I know that to be true.
Many people aren't aware that four months into Cannon's life my husband was hospitalized and inpatient at Mayo Hospital in Jacksonville for a significant period of time. I was working for a lawyer in Orlando and traveling to be with Michael, with a four-month-old and a husband who had lost the ability to walk or move his arms, he had a rare auto-immune disease called GBS. I took my good husband home with a wheelchair, and we resigned to the fact that he would most likely never be able to walk again. After a year it appeared we were in the clear. I confess I remember thinking, nothing worse could ever happen to us, we were married only a few years and had a newborn and a sick husband. Life was pretty much sunshine, rainbows, unicorns – for a good six months.
Then one day I said ' I am pregnant ' we were so happy, I was in Scotland when I found out. We shared with my family, and we celebrated Cannon turning one year old with them. We came back and found out it was twins. Let me be SUPER real – I was NOT excited. I cried, and not happy, yeah this is such exciting tears, no I knew twins and Cannon was going to be hard. Then we found it was two boys – lord help us. Ok, don't judge me, at the time it honestly felt like it was the worst thing that could happen. Of course, that was not the end of the story.
Cannon began to limp, and I was 38 weeks pregnant with my twins at this point. Michael was traveling for work, so I called him, and he suggested a doctor appointment. Long story short next time I saw my husband he met Cannon and I at Arnold Palmer Children's Hospital and Cannon was scheduled to have surgery for what we thought was a knee infection. Sadly, there was no infection, but our son, our ray of sunshine was covered in cancer. Kids get cancer.? Yes, your son has stage four neuroblastoma a very aggressive form of cancer. It is everywhere in his body. Cannon has a very big fight on his hands. At that time, neuroblastoma was the number one killer of children in the US – thankfully due to research it no longer is.
The famous rhetorical question….' He is not going to die though – right? He responded 'your son has a 50/50 chance.' Thankfully no one can see me type these words; tears are flowing as every time I write them it takes me back to that moment. Weirdly I sometimes like to remind myself of that moment so that I can truly appreciate the miracle he is. I also am acutely aware after attending more children's funerals than adults in my 34 years that many parents only dream of a 7th birthday with their baby. We didn't know if we would get a second birthday with him let alone another five. Without being a pessimist, because I am not, we don't know what tomorrow brings for a kid like Cannon on cancer and side effect front. If I sat there too long, I would have him relapsing and having a heart transplant and sad that he can't naturally father a child – so I don't sit there. I sit here, with you in the solution. In the FIGHt! IN the possibilities of a kid who beat cancer, a kid who smiles every day, a kid who is a gift to those who get to know him, a kid that inspired Cannonball Kids' cancer Foundation. Cannon James Roland Wiggins you inspired your Mum and Dad to work hard for change. To change the status quo of kids battling cancer.
Since you don't need anything Cannon Wiggins, we are having a FULL circle moment today. Your journey began, CKc's journey began with the sale of one little T-shirt. We didn't know what would happen after that – thankfully a lot ! So we decided it would be a fantastic way to celebrate what you have inspired in all of us. CHANGE…..YOU ARE CHANGE Cannon. I want to be change too.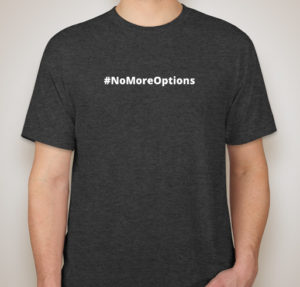 These shirts are only on sale for ONE week, and since we hold T-shirt sales every five years it seems, I would get them while they are hot. All proceeds will go to Cannonball Kids' cancer Foundation. I cannot wait to order mine.
I want to take a moment of PURE gratitude, whether you know the story of Cannon, are new to our story, or wish to know more – all of those mean SOLUTION, CHANGE and HOPE. Thank you for being a part of that. I believe deep in my heart that Cannonball Kids' cancer and others are changing the status quo – it is NO longer okay, it NEVER was.
Buy a shirt pretty please with a cherry on top.
All over the US is lighting up Gold for pediatric cancer awareness month in September and you can wear these shirts as a symbol that we are creating solutions TOGETHER.
https://www.customink.com/fundraising/nomoreoptions-campaign
Thankful For The Fight
Cannonball Kids' cancer