Update on Cannon from CHOP
The FIRST goal is survivorship. That's the number one priority! But what does survivorship looks like? If you have heard me speak you have probably heard me say these words.
Our priority at CKc is not only creating options together BUT better options together …..
Frankly what we have today is NOT acceptable to me or anyone on Team CKc!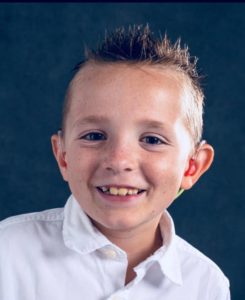 I know this because I live it with my son. My survivor. For a time I felt bad talking about it because how can I ? How can I talk about how unacceptable survivorship is to me when so many only wish to have their survivor with them. I sound UNgrateful. But I am grateful. I have since realized because I've spoken to and spent a lot of time with parents who have lost their children to childhood cancer that they want me to work harder for better options. That creating the same options would ONLY make the same results and that we need real innovative change! Changing the status quo is about creating survivors and creating a quality of life for them.
Today Cannon teared up as I put his hearing aids on. He asked me if he had to wear them — a new question since starting first grade. He asked me why he wears them and explained to me he can hear without them. He picked his nails and hunched over with anxiety as I placed them on his ears. Michael and I hugged him and talked him through it as we have done every time before this. Cannon left the room and Michael and I watery eyed and all looked at each other and half smiled – our hearts ache. Cannon is getting older and self conscious. Of late he has asked me why he is smaller than kids his age. Cannon is 20 months older than his twin brothers but they are almost all the same height. I appreciate that it is MY job.. Michael's job to raise Cannon to be a confident, kind, loving man and we can and will do that, but cancer has added many hardships to Cannon's life.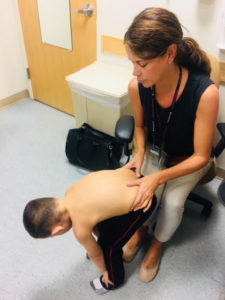 At CHOP on Friday we discussed further issues for kids like Cannon who get so much radiation to their spine. We took Cannon to who we believe is one of the best in proton radiation – Dr Hill-keyser – we still believe that, but it doesn't change that we burnt Cannon's spine to save him as well as many other areas in his body. That comes at a price. Cannon now has early signs of scoliosis. One shoulder is higher than the other , one nipple higher than other and some curving of his back and spine. Is it life
threatening? Will he die? NO… is it potentially more therapies , more surgeries , more specialists, more self conscious behavior ? Yes it is. I don't accept that is okay. I don't want that for the family who right this very moment is hearing the words " your child has cancer " I want them to get a treatment that will make their child a survivor and live a good happy life with quality of life in it. Not a lifetime of secondary cancers, eye issues, infertility, hearing loss, learning disorders, or organ failures like we saw just a few days ago with Sweet Sally Sunshine!
By the end of this month I've personally been a part of some 20 pediatric cancer related meetings or events across 6 states and team CKc even more than that… why…. because I truly at my core believe, whether arrogant or not that we can change this status quo . That in the next decades that children will be cured in different , better ways and that it won't leave them with lifelong issues.
2/3 of kids who survive five years from their original diagnosis will face lifelong challenges including secondary cancers and organ issues.
There are no survivors of certain brain cancers, and many forms of brain cancers have less than a 10 percent chance of survival.
I am not OKAY with either of those statistics. Team CKc is not okay with it.
So together we work our little rear ends off as a team to change it.
In short.
I don't accept what Cannon deals with, and I won't accept anything else for your kids or the kid being diagnosed right this moment.
I am…
I continue to be…
Thankful for the fight.
Please say a little extra prayer for Cannon as we navigate these new waters as a family. Thank you.