Newest Recipient of a Young Investigator Grant Announced!
Dr. Michael Ortiz from Memorial Sloan Kettering in New York City is CKc's newest recipient of a Young Investigator grant! Early in his career, as the Chief Fellow at MSKCC, he treated Nolan King, the son of Research Director, Kelly King.
Since Nolan's passing in April 2017, Kelly and Melissa Wiggins have remained connected with him and visited Dr. Ortiz to discuss his research and career goals, and how CKc could assist him in getting his research into the clinic. Because pediatric cancer researchers must search to find their own funding for clinical trials and research to achieve this type of goal, CKc is dedicated to encouraging bright, eager and committed talent like Dr. Ortiz to stay in the field in spite of its challenges by providing salary coverage.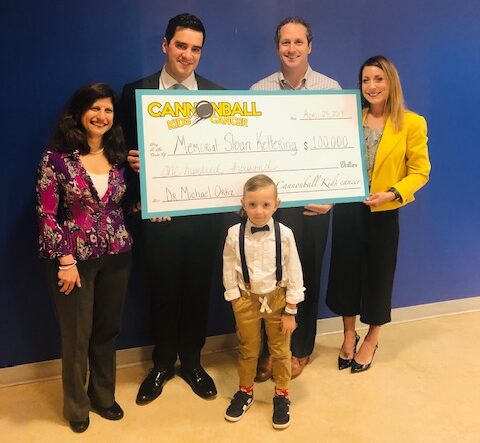 Encouraging those who show this type of promise is an essential part of changing the status quo for kids battling cancer, and this $100,000 award, payable over three years, will help protect Dr. Ortiz's time in the lab, and assist him in developing his first clinical trial for high-risk solid tumors including hepatoblastomas, sarcomas, and Wilms tumors. He's already taking huge steps in this direction by being invited to apply and submitting a clinical trial grant application to CKc in the first grant cycle of 2019!
A strong mentor relationship with a leader in the field is an essential part of early career development, and a requirement for our grant funding. Dr. Ortiz's mentor, Julia Glade Bender, MD, Vice Chair for Clinical Research at MSKCC, told us this: "After 2 decades in the field of pediatric oncology drug development, it is strikingly apparent that Dr. Ortiz is the 'real deal.' He possesses the three most critical elements of success: passion, intellect and tenacity. If provided with support at this critical stage of his development, I am certain he will achieve national recognition and earn his place amongst the rising stars in translational pediatric oncology."
"This grant would provide me with the support needed to continue my pursuit of novel targeted therapies for high risk pediatric solid tumors … and facilitate my ultimate goal of becoming an independent translational clinician scientist."
– Michael Ortiz, MD