A Friend, A Wreath, and HOPE
I'll never forget it.
I think it was a Saturday and Cannon was unexpectedly admitted to the hospital. I called Melissa to ask if she wanted visitors and she kindly declined as there was still testing to be done. We kept in contact and several days later: the unthinkable.
Neuroblastoma.
A type of childhood cancer. How can this be?? This young mother had just moved from Scotland, married a wonderful man, had Cannon and was 9 months pregnant with twins. All in a span of 3-4 years. Now this?
After the shock wore off, Michael and Melissa went into warrior mode. They found the best treatment for Cannon, traveling all over the country. Friends in Orlando did what we could to support the family. Cannon's older sister, Olivia, became like a family member to us; we love her dearly.
We all wanted to support Cannon and the Wiggins family in their fight against pediatric cancer, but many of us weren't sure how. Then in 2014, Michael and Melissa founded Cannonball Kids' cancer (CKc) Foundation to fund pediatric cancer research.
My family's way of honoring Cannon was through the purchase of a CKc wreath that was being sold on social media. I vowed that this wreath would be outside our door until Cannon hit the momentous five-year mark of being cancer-free. The wreath has only been taken down during Christmas when our Christmas wreath watches over CKc's special place in our home during the holidays. This round object with its ribbons and gold glitter has so much meaning. It represents the fight of a little boy whose parents never gave up hope. It represents a community coming together to help a family in need. It represents all children suffering from horrendous childhood cancers. And, at the same time, it represents HOPE. Hope that someday these terrible diseases and these family's sufferings may be eradicated.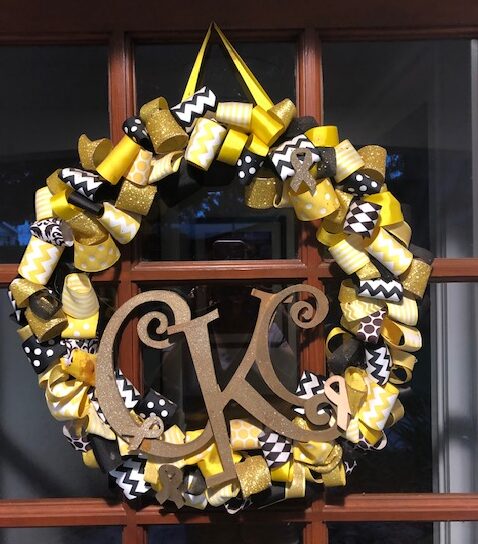 May 20, 2019 will be a celebratory day! It is the day our CKc wreath comes down in honor of Cannon being cancer-free for five years!!! I will miss seeing Cannon's wreath and all that is represents, however I will be filled with joy and thanking our Lord for watching over our little fighter!"