Cannonball Kids' cancer Foundation Raises Record-Breaking $169,000 with Jersey Mike's Subs
August 27, 2021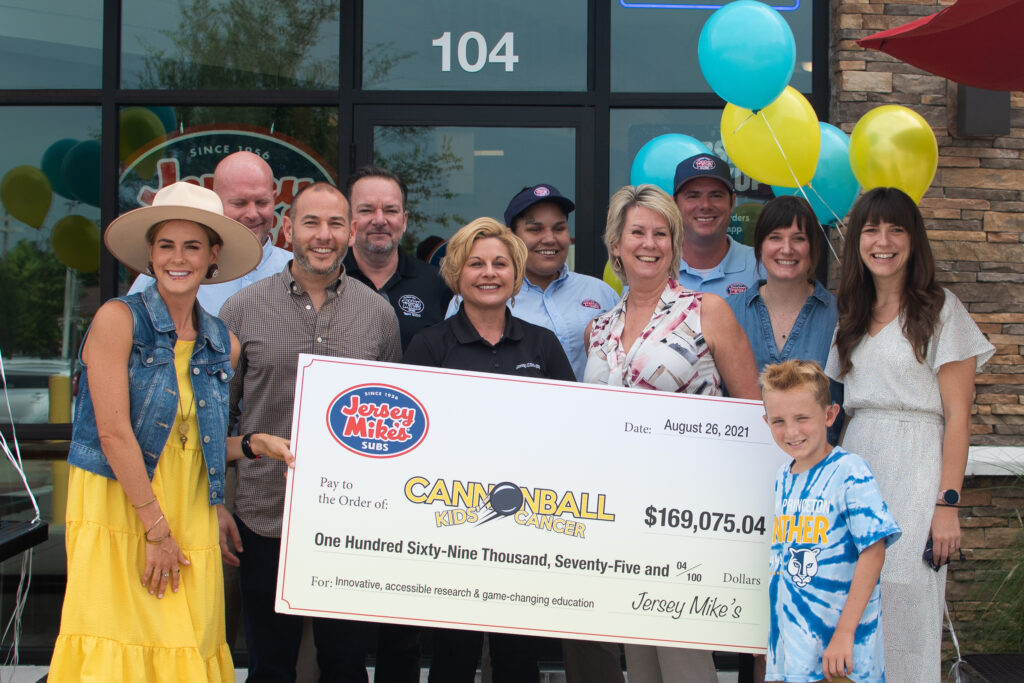 FOR IMMEDIATE RELEASE
Date: August 27, 2021
Contact: Valerie Solomon
Email: valerie.solomon@cannonballkidscancer.org
Website: www.cannonballkidscancer.org
Facebook: @cannonballingcancer
Check Was Presented in a Ceremony on August 26
ORLANDO, Fla. – Orlando-based non-profit, Cannonball Kids' cancer Foundation (CKc), announced today that they raised $169,077 during Jersey Mike's "Month of Giving" this March. This broke a previous record of $85,000 raised by a central Florida non-profit during the "Month of Giving".
Jersey Mike's presented a large check to celebrate the amount raised in a ceremony on August 26 at Jersey Mike's – SODO. Franchise owners Raul Ceide, Lisa Ceide, Sean Gillespie, and Jeff Padgett presented the check alongside staff from the SODO store. Accepting the donation were CKc board members Kay Rawlins and Brian Margolis, Founder Melissa Wiggins and the organization's name-sake, Cannon Wiggins, along with CKc staff.
"2021 was a banner year for Jersey Mike's Subs Month of Giving," said Raul Ceide, Jersey Mike's central Florida franchisee/owner. "Nationally, we raised $15 million for more than 200 charities across the country. Here in the Orlando market, our 27 stores raised $169,077 for Cannonball Kids Cancer (CKc), culminating on the Day of Giving when all 27 locations donated 100% of their sales! We are proud to have partnered with CKc and hope that everyone's efforts will make a difference in someone's life."
"This is the largest single corporate donation CKc has received, to date," said Valerie Solomon, CKc's interim executive director. "We are incredibly moved by the amount of generosity and compassion here in central Florida. We are so grateful to Jersey Mike's for their leadership during the Month of Giving and to the hundreds of community members who showed their support. This gift is the result of a wonderful partnership that demonstrates our collective impact as a community."
The amount of the Jersey Mike's donation is equivalent to the funding needed for one Young Investigator Grant and one Program Grant. Young Investigator Grants provide funding to researchers at the beginning of their career to protect their lab time so that they can develop the research needed to apply for a clinical trial. Program Grants stress accessibility of treatment options for kids, making successful clinical trials accessible in multiple regions.
Jersey Mike's "Month of Giving" took place in March. This event culminated with Jersey Mike's "Day of Giving" on March 31. Jersey Mike's franchise owners Joseph Fisher, Kim Crowell, Angelo Crowell, and Jacob Richards were also instrumental in raising funds during the "Month of Giving".
About Cannonball Kids' cancer Foundation:
Cannonball Kids' cancer Foundation's mission is to fund innovative and accessible research for children fighting cancer to provide better treatments and quality of life, and to educate for change. Their rigorous, relationship-based, invite-only grants process ensures that 92% of CKc-funded trials are first-of-their-kind in the US. To date, CKc has awarded $2.4 million funding 24 research grants creating 593 options for treatment for children in 25 states, DC, Canada, Scotland, and Switzerland.
[EDITOR'S NOTE: The "c" in cancer in the name Cannonball Kids' cancer Foundation is intentionally lowercase to give the word "cancer" an inferior status.]
###