Our Inspiration
In 2002, when 16-year-old Sarah Szafranski realized she was losing her three-year battle with cancer, she resolved to make a permanent contribution to the fight against pediatric cancer. She decided to create a self-sustaining endowment fund for research on pediatric cancer. She charged her father, Bob Szafranski, with starting the Sarah Szafranski Endowment Fund and growing it to $1 million. Bob, along with his friends and colleagues in the Central Florida construction industry, created Sarah's Sporting Clays Against Cancer to fundraise for the endowment.
Having completed that goal in 2020, Bob guided the next phase of Sarah's Clays – to invest in the most innovative cancer research in the country – through a partnership with Cannonball Kids' cancer Foundation (CKc). With the help of the dedicated volunteer committee members, Sarah's Clays funded a Young Investigator Grant for Dr. Joelle Straehla at Dana-Farber Cancer Institute in 2021. In 2022, Sarah's Clays funded a Young Investigator grant for Dr. Jennifer Kamens at Stanford University.
Join the Fight
This year we're back for more fun and cancer-fighting impact at a new venue: OK Corral Gun Club. Join us for some amazing networking, sporting clays, and huge impact as we continue to fight for one of Sarah's final wishes: to cure cancer and change the world.
Click here to DOWNLOAD THE FULL SPONSORSHIP PACKET
Announcing the 2023 VIPs!
Be sure to check back often as we will continue to add VIPs!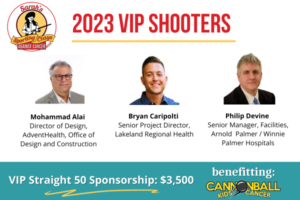 Need a place to stay for the event?
CKc has reserved blocks of rooms at two locations for Thursday, Nov 30, 2023. These rooms will be held until Nov 1, 2023.
OK Corral Cabins, 9449 48th Street Northeast, Okeechobee, FL, 34972
Call: 863-532-6267, reference Cannonball Kids cancer Foundation
Hampton Inn, 1200 FL-70, Okeechobee, FL, 32472
Call: 863-824-0003, reference Kylie Briggs
Event Details
OK Corral Gun Club, 9449 48th Street Northeast, Okeechobee, FL
CKc WOULD LIKE TO THANK THIS EVENT'S SPONSORS
Pavilion Sponsor
In-Kind Sponsor